Groove is the universal language. Whether it's a Texas or Chicago blues shuffle, James Brown's goodfoot funk, a driving guaguanco, percolating rumba, surging samba, infectious second line or insinuating cha-cha-cha, everyone knows what to do when they feel the rhythm in their bones. Indeed, groove is at the heart of this potent Afro Bop Alliance release, the group's debut on the ZOHO label. While providing exciting Latin-tinged grooves that are tailor-made for dancers, the members of this Washington, DC-based, Art Blakey & the Jazz Messengers-inspired octet keep one foot solidly in the straight ahead jazz camp with their scintillating improvisations and tight three-horn frontline on Angel Eyes.


The secret weapon on this exhilarating outing is newest Afro Bop Alliance member Victor Provost, who brings a new sparkle to the proceedings with his virtuosic steel pans playing on the Latin Grammy-winning group's fifth release overall. "He's like the Michael Brecker of the pans," says drummer and Afro Bop Alliance founder Joe McCarthy. "He's from St. John's, Virgin Islands, and he came to study at George Mason University just outside of Washington D.C., where I also teach. Having Victor in the band really changes what we do."


Aside from offering brilliant solos throughout Angel Eyes, Provost's steel pans also blend nicely on the frontline with alto saxophonist Vince Norman, tenor saxophonist Luis Hernandez and trumpeter Tim Stanley on these eleven tracks.
They state their rhythmically-charged case very persuasively from the outset on the buoyantly churning, clave-fueled opener, The Jinx, written by the band's bassist Tom Baldwin and arranged by Vince Norman.

Following exhilarating solos by pianist Harry Appelman and saxophonist Hernandez, drummer McCarthy engages in some fiery exchanges with conga player Roberto Quintero over a mesmerizing son montuno groove on this energized number before McCarthy unleashes at the tag. Three for Juju, composed by Hernandez and arranged by Norman, opens with a drum flurry by McCarthy. Note how he keeps a tambourine groove going with his foot as he traverses the kit throughout this intricate piece, which morphs from 3/4 to 6/8 and features some lush harmonies between the horns. "That's based on a joropo groove from Venezuela," explains McCarthy," who studied Latin jazz rhythms with Frankie Malabe and Victor Rendon at the Boys Harbor School in the Bronx and also studied jazz drumming with Ed Soph at the University of North Texas. "I was trying to play a little wider beat, so it seems to float underneath that beautiful melody that Luis wrote. And the way that Roberto is playing maracas on that is a total characteristic of that type of groove." Appelman and Hernandez both offer inspired solos on this engaging, polyrhythmic number.

Baldwin's Ziggy the Crooner is a straight-up cha-cha-cha that showcases Provost's steel pans in unison with Stanley's muted trumpet. Norman, who also co-arranged the contrapuntal horn lines on this easy-grooving number, turns in a robust alto solo here. The composer adds a nimble upright bass solo on the insinuating cha-cha groove before the rhythm section shifts to 12/8 mode underneath trumpeter Stanley's bristling solo. And dig the sizzling timbales-conga exchanges between McCarthy and Quintero over the son montuno section at the tag. "Roberto is a magnificent percussionist, a very powerful player and great soloist," says McCarthy of his Afro Bop Alliance rhythm mate.

Pianist-arranger Appelman puts an inventive Latin jazz spin on Horace Silver's lovely 5/4 tune Barbara (from his 1975 Silver 'n Brass album) which features a heroic tenor solo from Hernandez (catch his sly quote from "Fascinating Rhythm" along the way). Provost's Homenaje which features some lively call-and-response exchanges with special guest Paquito D'Rivera on clarinet, also has Quintero elevating the proceedings with his fiery conga work.

Vocalist Sara Jones delivers a darkly evocative reading of "Nature Boy," which is given a 3/4 treatment by Norman and is enhanced by the lush strings of violinist (and Joe McCarthy's wife) Paula McCarthy and principal cellist Suzanne Orban with the St. Claire Chamber Strings. The octet next tackles Joe Henderson's challenging Inner Urge which is given a percolating new clave-fueled arrangement by Norman. McCarthy explodes with a drums salvo at the intro while Hernandez and Provost contribute outstanding solos on this decidedly Latinized rendition of a jazz classic.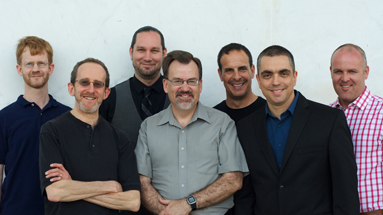 Provost's Fete Antilles has the gifted steel pans player doubling the melody with trumpeter Stanley upfront before the other horns join in. Stanley, Provost and Appelman contribute stirring solos on this polyrhythmic groover. Appelman's clave-fueled reworking of the evocative jazz standard Angel Eyes features brilliant solo contributions from trumpeter Stanley and tenor saxophonist Hernandez and builds to another spirited McCarthy-Quintero face-off against an invigorating son montuno groove set up by Appelman's piano.

Dan Cavanagh's Latin spin on Wayne Shorter's This Is For Albert, a classic Jazz Messengers tune introduced on 1963's Caravan, has McCarthy deftly shifting from alternating measures of 12/8 and 9/8 to 3/4 on the bridge throughout the course of the piece. "I envisioned a compound time signature on that because it allows it to breathe and go in a different direction than if it had stayed in four all the time," says groovemeister McCarthy. Stanley turns in another forcefully swinging trumpet solo on this number and is followed in succession by Norman, who effortlessly soars over the entrancing groove on alto sax.


The album closes on a vibrant note with Provost's upbeat, soca flavored Minor Details which features both Sara Jones and the composer on wordless vocals and has Appelman switching to electric piano for a fresh texture. Norman and Provost each stretch out considerably on this buoyant vehicle.


With Angel Eyes, McCarthy and his spirited crew continue in the great tradition of cross-fertilization pioneered by Dizzy Gillespie and Chano Pozo and carried on by Latin jazz masters like Machito, Mario Bauza, Tito Puente, Eddie Palmieri, Mongo Santamaria, Ray Barretto, Chico and Arturo O'Farrill, Chucho Valdes, Poncho Sanchez, Jerry and Andy Gonzalez and countless other practitioners of this infectious groove-oriented music. And the key is the chemistry between the band members.


"The combinations of players...that's where the magic happens," says McCarthy. "You have guys who are coming from very different places, but everybody understands what's going on. And that, to me, is what makes this music happen. Everybody knows how everybody in the band plays and also knows what everybody's into and what they're listening to, so when we come together there's usually very little discussion about anything. We just play. Someone will bring in an arrangement and the music will come together very quickly. And that's what I think makes this music happening."


That formula has proven successful in four previous outings, including their 2008 Latin Grammy-winning collaboration with Dave Samuels' Caribbean Jazz Project on Afro Bop Alliance - which also received a Grammy nomination that same year. And it fuels this current outing, their most ebullient and rhythmically-charged album to date.
-- Bill Milkowski

Recorded on October 29 and 30, 2013. Recorded, mixed and mastered at Bias Studios, Springfield, VA, by Bob Dawson and Mike Monseur. Produced by Joe McCarthy and Bob Dawson. Co-produced by Vince Norman. Art direction and package design: Jack Frisch. Executive producer: Joachim "Jochen" Becker.