With Ellington Boulevard, New York guitarist Greg Skaff stakes his claim on the rich territory of the organ trio. With his blues-drenched sensibility, rhythmic assuredness, strong affinity for funk and his boppish tendency of blowing at breakneck tempos with apparent ease, Skaff fits neatly into that great lineage of such stellar organ trio players as Wes Montgomery, George Benson, Pat Martino and Grant Green. By tapping into this nostalgic and inherently swinging idiom, which peaked in popularity during the '60s and early '70s when organ lounges could be found in every major market across America, he joins six-string contemporaries like Randy Johnston, John Hart, Dave Stryker, Paul Bollenback, Bob DeVos and Peter Bernstein in celebrating the power and glory of the vintage Hammond B-3 trio.
A current member of Bobby Watson's group, the Wichita native has worked frequently with singers Gloria Lynne and Ruth Brown and with trumpet legend Freddie Hubbard. But it was his five-year apprenticeship with the late Stanley Turrentine (to whom the track "Blues for Mr T" is dedicated) that made the biggest impact to date on Skaff. "I got the gig with Turrentine shortly after arriving in New York 20 years ago," he recalls, "and I never really understood until after I was with him how much the experience of being on the bandstand with him affected me. Just having to play the melodies and those horn lines with him really shaped my playing. There's a certain kind of swing that he has, a certain kind of pocket. And I haven't heard too many other people play like that."

Along with drummer Joe Farnsworth (a veteran of many B-3 engagements) and organist Mike LeDonne (a bona fide B-3 burner himself), Skaff sails through a collection of ballads, blues, burners and boogaloos with warm tone, pristine articulation, percussive attack and impressive chops. All three musicians are highly popular regulars at SMOKE Jazz Club, located on the corner Broadway and Duke Ellington Boulevard ( = 106th Street) in Manhattan – hence the title of this release. The album kicks off with a modernist take on the organ trio format in Skaff's "Baku," basically a head constructed over the changes to the standard "Yesterdays" in which the guitarist swings confidently while making odd intervallic leaps and surprising harmonic twists on his solo, a la Pat Martino. His loping, relaxed blues "Rambler" was inspired by Wes Montgomery's "Just Walkin'" (from his Bumpin' album) while Skaff's surging "Super 80" sails rapidly over "Giant Steps"-type changes, highlighting the guitarist's fluid facility up and down the fretboard. Le Donne responds to Skaff's burn with some heat of his own on a fleet-fingered B-3 solo.

"Blues for Mr T" is a toe-tapping, hand-clapping roadhouse shuffle which has Skaff digging deep into his own bluesy roots while flaunting his jazzy dexterity. LeDonne pulls out all the stops here (literally) during his own exuberant solo, which builds gradually and dramatically, culminating in a show-stopping crescendo.
Says the guitarist of his blues-inflected phrasing here, "Much of my background was in blues and blues-rock, which were both very popular in Wichita. I think the first jazz I heard live was Lou Donaldson. There was a club that brought organ groups like him and Jack McDuff out there. And that all made a strong impression on me too as a young guitarist."

Skaff opens Freddie Hubbard's "Delphia" (from his Red Clay album) with a gorgeous solo guitar intro. As the piece develops, a decided gospel flavor comes into play. As the guitarist notes, "Freddie named this piece for his mother, who was very active in the church," which accounts for the degree of unbridled testifying that goes on here.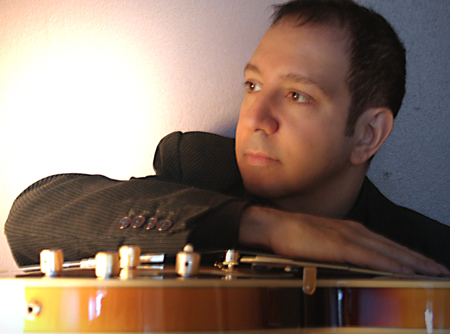 On a blazing rendition of McCoy Tyner's "Inception," Skaff flaunts his most prodigious display of chops, summoning up Bensonesque burn at an exhilarating tempo. Again, LeDonne responds in kind to Skaff, scorching the keys with white hot intensity. Farnsworth drives the piece forward with an insistent ride cymbal pulse before the band drops out, giving way to a dynamic drum solo.
Skaff's chugging boogaloo "Poundcake" is an earthy throwdown cast in the ultra-funky mold of the fabled Turbanator, Dr. Lonnie Smith, with whom the guitarist has shared the bandstand on more than one occasion. Skaff's playing is bent-stringed and nasty here while he takes an entirely different tact on Billy Strayhorn's sublime ballad "Isfahan," conjuring up a dark hued radiance over Farnsworth's gentle brushwork and LeDonne's lush B-3 cushion. But even in this more subdued setting, the guitarist still finds a way to blow over the changes by double-timing the jaunty, swinging middle section before returning to Strayhorn's haunting, melancholy theme. (And catch Skaff's clever quote at the tag from "The March of Siamese Children" from The King & I ).

The collection ends on a buoyant note with Skaff's 5/4 workout "Highway 54," jointly named for a major thoroughfare running through his native Wichita and also sly reference to the tune's time signature.

"We did this entire record in something like four hours," says Skaff, "and it came out good. I like recording that fast way...maybe even doing only one take per tune. Because, you know, when you start doing a lot of takes of the same tune, sometimes the law of diminishing returns kicks in as far as the magic goes."
The magic remains intact on these nine tracks. You can actually feel the burn when Skaff, LeDonne and Farnsworth kick it into high gear.
-- Bill Milkowski

Produced by Greg Skaff. Recorded Direct to Two-Track January 10, 2003 at Tedesco Studios, Paramus, NJ. Jon Rosenberg, Tom Tedesco, Engineers. Mastered by Phil Magnotti at Carriage House Studios, Stamford, CT. Photography : Sergio Royzen. Package Design : 2712 Design Ltd. www.2712design.com Executive producer : Joachim Becker

Greg Skaff plays D'Angelico guitars and Thomastik-Infeld strings.

Special thanks to: God for breath, the Skaff family for their support, the Drayton family for encouragement, Watson for the gig, Joachim B for the deal, El Don and Joe for the pocket.

Check out Greg's website at www.gregskaff.net . Greg Skaff bookings : (212) 348 4941.