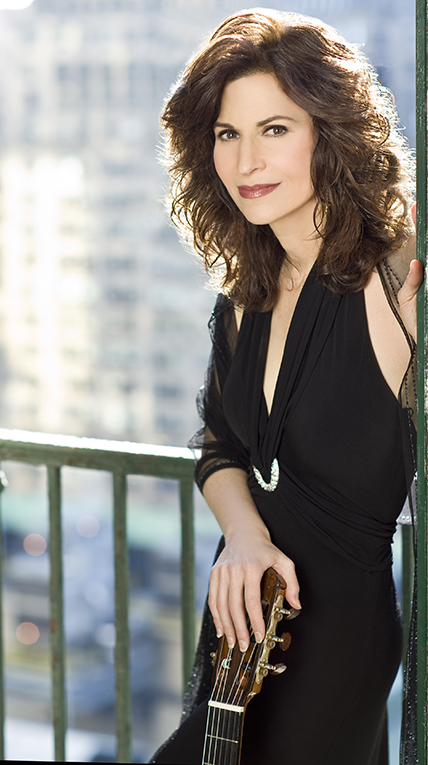 Above photo and CD cover photo by J Henry Fair
_
On this historic ZOHO release, multiple Grammy winner Sharon Isbin performs multi-faceted and virtuosic new works for guitar, written for her by four leading composers. From the Africa-influenced
El Decameron Negro
by iconic Cuban guitarist/composer Leo Brouwer, through the Chinese and Spanish-inspired
Seven Desires
by Tan Dun, to Richard Danielpour's sensual song cycle Of
Love and Longing
and the jazz and world music-influenced
Affinity: Concerto for Guitar & Orchestra
by Chris Brubeck: Sharon Isbin gives her inimitable imprint to, and vastly enriches major new repertoire for guitar. - Kabir Sehgal
CHRIS BRUBECK (b. 1952)
I was excited to write Affinity: Concerto for Guitar & Orchestra (2015) for guitar virtuoso Sharon Isbin, who has toured and recorded collaborations in a variety of genres, including Classical, Jazz, Rock, Folk, Bluegrass, Indian and Brazilian. My eclectic background as a performer and composer served to provide Sharon with the wide-ranging musical influences she loves to explore. After our initial discussions, Sharon was approached by The Betsy Russell Fund for New Music to fund the piece which, along with this recording, is dedicated to Betsy's parents Joy and Isadore Russell. Sharon premiered the concerto in 2015 with the Maryland Symphony conducted by Elizabeth Schulze.
Sharon wanted a work that had a global approach to the guitar and wasn't confined to one particular style. My wife Tish suggested the title as Sharon and I share an affinity for embracing and exploring different musical styles. As I learned from watching the PBS special about Sharon's remarkable career, she wanted to be a scientist as a young girl. With that in mind I include the scientific definition of affinity: An attraction or force between particles that causes them to combine.
This is an appropriate description of the concerto as many genres are combined to create this 16-minute piece. There are no separate movements -- instead there are simply flowing, contrasting musical areas that we chose to explore. This concerto jumps out of the starting gate with the energy of a downhill ski race. Sharon has great facility on her instrument, and I wanted to feature her fingers flying from the first measure. After a few minutes the piece travels into an early Jazz style with syncopated rhythms that almost harken back to Ragtime. Then the music transforms into a romantic waltz with oceanic qualities.
In the middle of this concerto there is a very heartfelt section that evolved from a suggestion by Sharon. She knew that my father Dave Brubeck had recently passed on and that he and I were very close and frequently wrote music together. She called me from New York and sensitively asked if there were any melodies my father had written that were particularly "guitaristic." She thought it would be wonderful to honor him by including some of his musical spirit in this piece. While speaking with Sharon, I was composing in the Connecticut studio where my father and I had created so much music together. It was October and gazing out a window overlooking a stream surrounded by glorious old trees, I saw the wind spin a few golden leaves off their branches and they lazily circled down to the water. I told Sharon that I had just seen something that reminded me of a beautiful melody my father had written, "Autumn in Our Town" which described this time of year. A few days later I sent her the realization of this theme presented as a guitar feature enveloped by the string section. Midway through, there is a modulation while the guitar tunes its lowest string down to a low D which facilitates an even deeper and more soulful interpretation.
I followed this andante area by writing a completely contrasting section in a major key which I envisioned as a kind of neo-Renaissance dance in 6/8. The music gracefully makes its way into more complicated time signatures alternating a bar of 7/8 with a bar of 3/4. A different groove is established with a new section in a fast 5/8 time signature that conveys the energy of a Brazilian samba. The guitar solo takes off over the propulsive rhythm and climaxes into a technically demanding cadenza. Percussion emerges from the guitar's final cadence and we are off to a Middle Eastern fantasy. The tempo accelerates and we land in a brief recapitulation and compressed version of the original theme, leading to an ending filled with driving energy to catapult us to the last chord. - Chris Brubeck
LEO BROUWER (b. 1939)
I was surprised to receive a handwritten score in the mail one day in 1981 composed for me by Leo Brouwer. I had met the brilliant Cuban composer/guitarist after winning the Toronto Guitar '75 competition as a teenager and hearing him perform at the festival. That inspired me to learn and record whatever music of his I could find. His gift to me of El Decameron Negro was truly unexpected and a great honor!
Though I made the first recording of it a few years later, my rendition on this album represents new insight nurtured from years of living with the music. The ballads are inspired by African love stories collected by the German ethnologist Leo Frobenius (1873-1938). Afro-Cuban rhythmic and melodic elements, as well as programmatic imagery, have a colorful presence in this richly evocative score. In "The Harp of the Warrior," a soldier beloved by his tribe is summoned to save them from an invading army. Energetic rhythmic motives depict the warrior's strength, while slow, harp-like interludes evoke his artistic sensibility.
"Lovers Fleeing through the Valley of the Echoes" opens with foreboding for the warrior who has been banished from his tribe because he loves to play the harp. The music manifests a hastening gallop of horses as he and his lover flee. The opening passage returns briefly, followed by an evocation of tender and nostalgic remembrance. Fast triplets alternating between loud and soft depict the lovers riding furiously on horseback through the Valley of the Echoes. Written in rondo form, the "Ballad of the Maiden in Love" opens with an African-inspired call and response that portrays the gentle sensuality of a beautiful young woman in love, swinging her hips as she walks. Two fast sections contrast the lilting opening with episodes of vibrant, passionate energy. © Sharon Isbin
ANTONIO LAURO (1917-1986) /ARR. COLIN DAVIN
Born in Bolivar, Venezuela, Lauro toured South America performing guitar in vocal-instrumental trios. Considered a "South American Gershwin," Lauro wrote and arranged hundreds of works for guitar, piano, chorus and orchestra. He dedicated Waltz No. 3 Natalia to his daughter. I had the pleasure of meeting Natalia in Caracas, and played her father's waltz as she accompanied me on the Venezuelan cuatro. Recalling that beautiful memory, I asked my former student and frequent duet partner Colin Davin in 2017 to compose a second guitar part that would capture the idiomatic folk style and rhythms of the cuatro. I loved what he wrote and invited him to join me on this recording. © Sharon Isbin
TAN DUN (b. 1957)
Born in China, Tan Dun is a graduate of Beijing's Central Conservatory and holds a doctoral degree in Music Arts from Columbia University. His music unites Chinese shamanistic traditions with Western avant-garde, and his many honors include GRAMMY, BAFTA and Academy Awards. Seven Desires for Guitar was written in 2002 for Sharon Isbin, who gave the work its world premiere in New York's Kaufmann Concert Hall, 92Y. For Tan Dun, one of the most important elements in writing music is "balance and counterpoint": not only note-to-note in a single style and tempo, but also the broader relationship of styles, tempos, timbres, dynamics, structures - even of different ages, of the converging worlds of East and West. The whimsical, multi-movement collage Seven Desires for Guitar is the solo piece spawned from Tan's guitar concerto Yi2, likewise written for, premiered, and recorded by Sharon Isbin. Conceived as a "counterpoint of styles," Yi2 had blended and contrasted the different traditions, relationships, and characteristics of two plucked instruments - Spain's flamenco guitar and China's pipa (lute). A "cultural counterpoint" developed within the concerto's solo part itself, which was no longer coherent as either flamenco or pipa music; it had been transformed by the mingling and exchange of these distinct cultural traditions. Something entirely new had been created which didn't echo tradition, but nevertheless retained the shadow of its roots.
In Seven Desires, Tan spins this idea into a musical mini-drama: the guitar now "desires" to become a pipa. It emulates the pipa's sound by bending pitches microtonally; and uses a wealth of articulation techniques to sculpt and color individual notes expressively, in a typically Asian manner. Metaphorically, the guitar desires not just to emulate the pipa, but to achieve oneness with it, perhaps even an erotic union. © Mary Lou Humphrey
RICHARD DANIELPOUR (b. 1956)

Of
Love and Longing
(2014) is a cycle of three songs commissioned jointly by Carnegie Hall for their 125th Anniversary Season and the Harris Theater Chicago and written for Sharon Isbin and Isabel Leonard who premiered the work at Carnegie Hall in 2015. I had spoken to Sharon Isbin in 2013 about the idea of writing a piece in memory of Mary Lou Humphrey, who had passed away a year before. Mary Lou was a friend and colleague who had worked closely with me on the opera
Margaret Garner
, and she was a close friend of Sharon's. I had also wanted for many years to write for Sharon, having been a great admirer of her work and having witnessed her devotion over nearly three decades to the music of American composers. The texts have their origin in poetry of the great Persian poet Rumi, as translated/interpreted by Raficq Abdulla. These poems, at once erotic and spiritual, are ideal in an intimate setting for voice and guitar. "Listen…" expresses the agony of birth, "This Night of Love" is like a folk dance, and "Your Beauty…" explores the ecstasy of death. Rumi and many of the early Sufis believed that in looking upon the face of one's beloved, one is coming as close as possible to seeing the face of God. In this way, eroticism and spirituality are often viewed, in the esoteric knowledge of India and the Middle East, as one and the same. - Richard Danielpour
OF LOVE AND LONGING
Lyrics by Jalaluddin Rumi,
translations by Raficq Abdulla
Listen . . .
Listen oh listen to my plaintive cry
Listen to my longing or else I die.
From the sweet home of my bed I was torn
So my pain and crucial longing was born.

With so many secrets I sing aloud
But none sees nor hears in this crowd.
Oh for a friend to know my burning state
That our souls may mingle and contemplate.

The flame of Love discourses in me
The wine of Love so enforces me.
Do you wish to know the fire, the flow
Listen my listener then you shall know.

This Night of Love . . .
This night of Love
So filled with longing
It contracts my heart
Makes a glass thirsty
For the ruby of your
Wine, then more, then
More from your chastity
Pouring itself into the
Form of this night
Of single pointed joy.
You tease me with
The golden feathers
Of your trembling hands
So intensely light,
I rise up and drink
Your wine, confuse
Myself and emerge
In you, fusing mine
With your own and now
You host yourself.

Your Beauty . . .
Your beauty is glory in nakedness, the melt
Of smooth skin unsullied with petulant jewels
And the spoiling touch of silk. Your delicate face
Is as pure as the milk of the full moon.
I entangle my limbs with the satin of yours;
Souls without sin, our unspeckled bodies
Are young with the spring of innocence
As we join together to journey
From place through time to eternity.
Multiple GRAMMY winner Sharon Isbin has been soloist with over 200 orchestras, made over 30 recordings, and given sold-out performances in the world's finest halls. Winner of the Toronto, Madrid and Munich ARD Competitions, Germany's Echo Klassik and Guitar Player's Best Classical Guitarist awards, she was named the 2020 Musical America Worldwide Instrumentalist of the Year, the first guitarist in their 59-year award history. She performed in Scorsese's Oscar-winning The Departed, the White House by invitation of President Obama, and as the only classical artist in the 2010 GRAMMY Awards. The documentary Sharon Isbin: Troubadour, seen by millions on PBS and abroad, won the ASCAP Television Broadcast Award. Her GRAMMY-winning Journey to the New World with guests Joan Baez and Mark O'Connor spent 63 weeks on top Billboard charts. Author of the Classical Guitar Answer Book, Isbin has premiered over 80 works written for her, and directs guitar departments she created at The Juilliard School and Aspen Music Festival.
Multiple Grammy Award-winning Isabel Leonard has graced the great stages of Vienna, Paris, Salzburg, Munich, Glyndebourne, Aix-en-Provence, Bologna, New York, Chicago, San Francisco, Los Angeles and appeared with Valery Gergiev, Seiji Ozawa, Antonio Pappano, Gustavo Dudamel, Esa-Pekka Salonen, Yannick Nézét-Seguin, Franz Welser-Möst, Edward Gardner, Edo de Waart, James Conlon, Marin Alsop, Sir Andrew Davis, Michele Mariotti, Harry Bicket, Andris Nelsons, and Michael Tilson Thomas with the Vienna Philharmonic, Cleveland Orchestra, Chicago Symphony Orchestra, New York Philharmonic, Los Angeles Philharmonic, Boston Symphony Orchestra, Philadelphia Orchestra, and San Francisco Symphony.
Founded in 1982, the Maryland Symphony Orchestra is celebrating its 38th concert season. Under the dynamic and vibrant leadership of Elizabeth Schulze, the MSO is dedicated to providing musical performances that educate and entertain, while enhancing the cultural environment of Western Maryland and the surrounding region. Ms. Schulze began her tenure with the orchestra in 1999 and continues to delight audiences with her innovative programming and passion for the arts.
Colin Davin has performed extensively as a soloist and chamber musician, including appearances at Carnegie Hall, Alice Tully Hall, the Afghanistan National Institute of Music, and on The Late Show with David Letterman. A champion of contemporary music, he has commissioned dozens of new works for guitar, and serves as co-head of the guitar department at the Cleveland Institute of Music.
Brubeck Affinity: Concerto for Guitar & Orchestra recorded at: The Concert Hall at the Music Center at Strathmore, North Bethesda, MD, September 18, 2018 / Monica Jeffries Hazangeles, President and CEO. Guitar solo and duo repertoire recorded at: The Performing Arts Center Recital Hall at SUNY Purchase College, Purchase, NY, May 21-23, 2019. Producer: Philip Traugott. Recording Engineers: Tim Martyn, Brian Losch, Kevin Boutote. Mixing and Mastering Engineer: Tim Martyn at Phoenix Audio LLC, Glen Rock, NJ. Editing: Tim Martyn and Brian Losch. Art Direction and Package Design: Al Gold. Cover and outer traycard photos: J Henry Fair www.jhenryfair.com. Stylist: Maureen McCluskey.
Photo Isabel Leonard & Sharon Isbin: J Henry Fair. Additional Photos: Sharon Isbin, Chris Brubeck, Elizabeth Schulze at the Music Center at Strathmore: Michael Harp. Tan Dun & Sharon Isbin: Rob Fortunato. Leo Brouwer & Sharon Isbin: New York City 2018. Sharon Isbin & Colin Davin: WCLV Radio, Cleveland 2017. Richard Danielpour: Timothy Greenfield Sanders. Executive Producers: Sharon Isbin, Joachim "Jochen" Becker, Kabir Sehgal.
Publishers: (1) © Chris Brubeck. (2)-(4) Ediciones Espiral Eterna. (5) Caroni Music (SACEM) (6) G. Schirmer, Inc. (ASCAP) (7)-(9) Lean Kat Music.
Sharon Isbin plays a guitar by Antonius Mueller with Savarez Strings.