In the winter of 1984 I first arrived in New York City. Fresh out of college, armed with a couple of guitars, I was unaware that I was about to begin a 30-year odyssey in which I would experience virtually every facet of the NY jazz scene. I soon landed in Brooklyn - Fort Greene to be exact. Brooklyn was a popular location for migrating young jazz musicians at that time, as it was difficult for many to negotiate Manhattan's high rents. Neighborhoods such as Ft. Greene, Park Slope, and Brooklyn Heights were teaming with musicians, and the sound of jam sessions coming from inside apartment buildings was ubiquitous.

It was a different Brooklyn from the Brooklyn today. The term hipster was dormant and I would venture to say that there were very few Brooklynites who knew what a latte was. The one thing that hasn't changed, however, is the vibrant and fertile jazz scene that has always resided there.

Brooklyn is where I first met Bill Moring and Tim Horner, the two remarkable musicians who join me on this disc. We met shortly after I moved to NY, all from different parts of the country, each with different backgrounds but all with the same goal, to play and learn. We ran into each other at some of those apartment jam sessions, found each other on various gigs together, and eventually formed a trio around 2000. This is our fourth CD together.

In the late 90's we all headed to the suburbs, raised our families, played a lot of gigs together and kept those jam sessions happening (all though this time in a house, not an apartment!)

My idea for this record was for us to convene with a minimum of rehearsal, play music that is rich in melody and explore and refine the chemistry that we have developed after all these years playing together.

The music –

Here's That Rainy Day – A favorite chestnut that I probably played for the first time in high school. Re–imagined with some darker hues, modern touches and a 6/8 rhythm, I conceived this arrangement while riding my bike in sunny Florida. Go figure.

Exit From Brooklyn – A new tune written right before this session. I left it open for the band to interpret in terms of groove, and I think Bill and Tim came up with the perfect blend of funkiness and freedom.

Star Crossed Lovers – Every Strayhorn ballad is special, and I just recently discovered this gem. Like all of his tunes it's akin to the Great American Songbook but there is so much more. We play it simply and try to let the song speak for itself. I love how this trio breathes together as one.
Inside Out - A 7/4 tune of mine that we have been playing for a while. The emphasis is on rhythm here and there is a lot of playful interplay within the trio.

April in Paris – I played this song every night during my 16-year tenure with organist Jack McDuff. Never thought of it as guitar trio feature, but what a great tune. And of course you can't do April in Paris without the big ending! The Wild Bill Davis arrangement that Count Basie made famous is the most well known version and Basie alumni Bill Moring provides a super swinging solo here.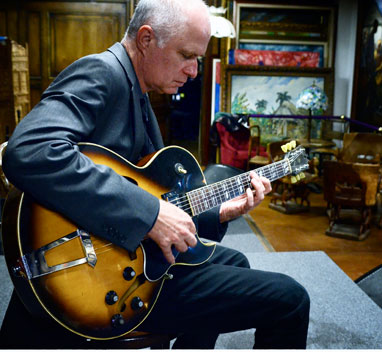 Just Friends – Lovers no more. Just friends, not like before. I always thought the lyrics and chord changes were somewhat at odds as the original has such a light breezy feel. This re-harmonization started as an assignment for one of my students, Matt Clinkenbeard, and gives the song a moodier temperament.
I Mean It! – Also written just prior to the session, it's a blues in Bb with a few left turns and a nod to Monk. It's a chance for everyone to stretch out in a loose, gig like atmosphere.
Ask Me Now – I've been playing this song for a while now and am constantly challenged by the angular melody and harmony. And yet the bridge is calm. Perfect balance. Monk travelled as a teenager with an evangelist playing church music. Later he was the house pianist at Minton's during the birth of bebop. He knew the Tin Pan Alley repertoire inside and out. Though he developed arguably the most challenging and iconoclastic instrumental and compositional style of any jazz musician, you can't separate these influences in his development and hints of all are heard throughout his music.
Jackieing - Another side of Monk. I'm always amazed at how easy it is to adapt Monk's music for any instrumentation, and guitar trio is no exception. Our approach to this composition is more of a group improvisation, the role of soloist and accompanist being less defined. Tim Horner sets it up with a wonderfully melodic drum solo.
Where or When – A gorgeous melody and a tune associated more with vocalists such as Frank Sinatra and less with beboppers. I added a few harmonic twists, but we try to keep it true to the warmth and beauty that is inherent in this song.
I now spent more time in Florida than in New York, settling into a new phase of my life as director of Jazz Guitar Studies at the University of Miami Frost School of Music. After 30 years as a jazz musician in NY, I feel as though I am somewhat of survivor. Not necessarily in a negative sense (I think many of my peers would agree with me on this), but in the sense that we all figured out how to negotiate the competitiveness, high cost of living, traffic, stress etc. and came out loving music more than ever.
The upside is the incredible and vast musical experiences we have all had, something that you would not be able to experience quite the same way anywhere else in the world. In that way I think the "exit" is in proximity only and the rich musical heritage that I have been enveloped in will always be a part of me.
-- John Hart, November 2015