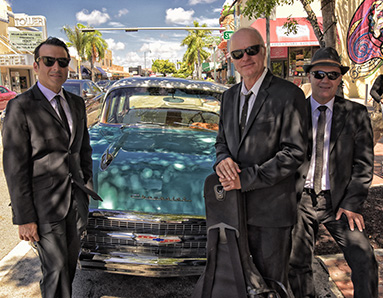 They are steeped in the tradition. They are both masters of their instrument and style, but they also understand the give and take required to transcend the group to a different musical level.
All great organ groups take popular songs and use them as vehicles to churn out organ style hits. That's what we are doing here. We focus on the modern music of the UK, but follow in the footsteps of the masters. John is a genius of harmony and has come up with very interesting ways to make what may just be one chord on the original version an epic of modern jazz sensibility. Take Royals for example. I would have never thought it was possible to accomplish that.
Adam Scone
Rehab – We picked up the tempo on the 2006 Amy Winehouse hit with a street beat from Rudy reminiscent of some of the great collaborations between Grant Green and Big John Patton. It's a 16-bar blues.
Don't Start Lyin To Me Now – From neo soul star Joss Stone, we keep it close to the 2011 original and use it as an excuse for some good old-fashioned garage band jamming.
The Look of Love – The ubiquitous Burt Bacharach/Hal David hit, covered by countless pop singers and jazz musicians alike, played by all of us on numerous gigs. Dusty Springfield had a hit in 1967 with it. We keep it as a jazz bossa but reinvent the harmony in an exotic fashion.
Smooth Operator – The 1984 Sade hit, we've all played it many times but never like this! A rockin' shuffle.
Royals – This song was a Grammy winner and a major hit on Lorde's 2013 debut album. For the trio I had the idea that we would go a little heavier with our interpretation. From there it took on a life of its own.
Turning Tables – A beautiful Adele song off her 2011 release 21, we interpret it as a jazz waltz with a nod to Larry Young and Elvin Jones and echoes of the great Coltrane Quartet.
Rolling in the Deep – Adele has such a huge presence in her sound and we thought the best way to do justice to that would be to go full Band of Gypsies on this song, originally released also in 2011 on 21.
I Only Want To Be With You – Dusty Springfield had a hit in 1963 with this light and infectious melody. We swing it in the tradition of the Great American Songbook.
Blues For The U.K. – A little shout-out to our friends across the pond. Organ trio blues, what else can I say.
Body And Soul – Amy Winehouse had a tragic life and this posthumously released duet with Tony Bennett in 2011 shows a side of her seldom heard. We adapted the beautiful orchestral arrangement for trio and present as such.
Back To Black – The title tune from Ms. Winehouse's Grammy winning 2007 album. As Rudy would say, we ham hock it in the great tradition of the organ hits of bygone days.
John Hart, October 2017
Produced by John Hart, Adam Scone, and Rudy Albin Petschauer. Executive Producer: Joachim "Jochen" Jochen Becker. Recorded on June 25 and 26, 2017 by Brian Robertson at 10K Island in Miami, Fl. Assisted by Patrick Howard. Mixed and Mastered by Brian Robertson at 10K Island in Miami, Fl. Photography by - Philip Avello. Art direction and package design by: Jack Frisch
John Hart plays D'Addario Strings. Adam Scone is a Hammond Artist.