On his fourth ZOHO CD outing as a leader, or co-leader with Hendrik Meurkens, and his follow-up to his 2009 ZOHO solo album From Yucatan to Rio, bassist-composer-arranger Gabriel Espinosa explores the common ground between two prolific and influential popular composers who came to prominence during the '60s in their respective countries -- Burt Bacharach in the United States and Armando Manzanero in Mexico.

With five-time Grammy Award-nominated vocalist Tierney Sutton handling the five familiar Bacharach tracks and Espinosa himself singing the Spanish lyrics of five tunes by his fellow countryman and native of Yucatan, this alluring concept album is brimming with the kind of sophisticated harmonies, unexpected chord progressions and changing meters that mark both acclaimed composers' work, while also being unabashedly romantic at his core.
Accompanied by pianist Misha Tsiganov, drummer Mauricio Zottarelli, trumpeter Jim Seeley and featuring the wonderfully lyrical playing of chromatic harmonica virtuoso Hendrik Meurkens, Espinosa puts his own unique spin on these ten classics with subtle reharmonizations to inject new colors along with new intros, interludes and rhythmic twists that draw on his background in bossa nova, samba and jazz. "It came out as the songs of Manzanero and the songs of Bacharach the way Gabriel Espinosa heard them," says the professor of Jazz Studies at Central College in Pella, Iowa, who defines himself as a 'hybrid composer.' "I'm not a jazz musician, I'm not a Brazilian musician or Afro-Cuban musician or bolero musician. I'm a little bit of everything, so I put a little bit of everything in these songs."

What do the famed American pop composer and beloved Mexican bolero composer have in common? Espinosa rattles off a list of qualities: "Beautiful melodies, beautiful harmonies, beautiful lyrics. Friendly songs. Songs that people can relate to. Songs that people can sing along to. They're beautiful songs. To me, they are like the new American Songbook writers. Bacharach is a magic composer. Nobody was writing popular music like that in the '60s. And Manzanero is the equivalent of Jobim, but in the Mexican bolero music tradition. He is one of the idol composers in Mexico."

While Espinosa plays bass on three tracks -- Adoro, Raindrops Keep Fallin' on My Head, Cuando Estoy Contingo -- his arranger's touch is prevalent throughout Songs from Bacharach and Manzanero. (Joe Martin plays upright bass on Esta Tarde de Vi Llover, Alfie and What the World Needs Now while Gustavo Amarante plays electric bass on (They Long to Be) Close to You, The Look of Love, Como Yo Te Ame and Somos Novios).

The set opens with the Manzanero bolero "Adoro" which Espinosa interprets in a more driving, aggressive fashion by incorporating cajon into the mix. On "Close to You", he starts with a Latin-tinged rhythm before segueing to a samba feel. "We cross borders on this CD," says Espinosa. "It's not a purist CD with one specific rhythm throughout. We just cross borders constantly." Sutton channels her inner Karen Carpenter on this beautiful Bacharach number. "I know that jazz singers can sometimes take liberties with a song but one thing that I asked her on this song was, 'Let's try to stay true to what it is.' And she did."

Espinosa delivers Manzanero's romantic lyrics on "Como Yo Te Ame" with requisite passion while Meurkens summons up the spirit of Toots Thielemans with his singing harmonica work on this melancholic love song.

The Look of Love is underscored by an insinuating bossa nova feel with Tsiganov switching to Fender Rhodes electric piano for a quintessential '70s sound while Sutton delivers the lyrics with remarkable clarity and chilling expressiveness. Seeley also contributes a beautiful trumpet intro and solo on this Bacharach favorite.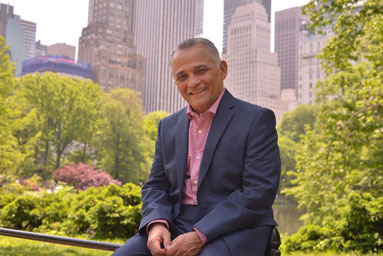 Gabriel Espinosa. Photo: Mulato Films.
Meurkens returns on Esta Tarde Vi Llover, which is considered one of Manzanero's most popular tunes in Mexico. "The lyrics are very poignant," says Espinosa, "Yesterday I saw the rain, I saw people running and you were not there. He's in love but he doesn't have the girl. I don't know if you love me or you miss me...all I know is I saw the rain coming and people running."
The Bacharach classic What the World Needs Now, given a faithful reading by Sutton, is underscored by Zottarelli's sensitive brushwork and imbued with subtle touches of reharmonization by Espinosa.
Somos Novios, which Manzanero wrote as a bolero in 1968, was adapted in 1970 by Sid Wayne, who wrote original English lyrics to the music. It was recorded by Perry Como in 1973 as "It's Impossible" and later covered by Elvis Presley, Robert Goulet, Andy Williams and Andrea Bocelli, among others. Seeley contributes a warm flugelhorn intro and solo on this tender Manzanero classic.
Bacharach's Raindrops Keep Fallin' on My Head is rendered here as a slightly melancholic number rather than the buoyant, upbeat B.J. Thomas version that appeared in the 1969 film "Butch Cassidy and the Sundance Kid". "If you pay attention, the lyrics are not happy," Espinosa explains. "So it ended up being a nice mellowish tune... not a ballad or a bolero. It's something else. And to me, at the end the sun shines, because it has that sing-along that just came from nowhere." Sutton summons up a forlorn Lush Life vibe at the outset of this Bacharach classic, then engages in some more spirited call-and-response with harmonica ace Meurkens at the tag.
Cuando Estoy Contigo carries an easy-going bossa nova feel in the authentic comping of Brazilian guitarist Rubens De La Corte. And the set closes on a touching note with a tasty reading of Bacharach's Alfie, which once again has Sutton and Meurkens blending their melodic sensibilities in telepathic fashion.
While Espinosa had sung "Besame Mucho" with Tierney Sutton on "From Yucatan to Rio", this album marks the first time that he presents himself as a vocalist. "Tierney is truly a great vocalist" he says. "The color of her voice is so beautiful on every track. As for myself, I am not a singer on that level. But I do have a deep connection to the music of Manzanero. I grew up with these tunes, I remember when those albums first came out, I remember going to see Manzanero in concert 50 years ago. And I ended up working with the guy twenty years ago for six months. He was the producer and I was the co-producer of a couple of projects that he did. So I know Manzanero. And these tunes of his are deeply ingrained in my soul. So while I'm not known as a singer, I like to sing them. It's like the Brazilian singers ... their voices get to you. So that's what I try to do with the vocal instrument I have. I'm not trying to show that I have this tremendous voice. It's about telling the story."
Espinosa tells some heartfelt stories on "Songs from Bacharach and Manzanero". And he gets a major assist from the crystalline vocals of Tierney Sutton. Together they show reverence for these two iconic composers in this moving and meaningful set of music.
-- Bill Milkowski
Produced and arranged by: Gabriel Espinosa. Recorded and mixed at: Acoustic Recording, Brooklyn, NY, December 2015, January and March 2016 by Michael Brorby. Mastered by: Alan Silverman at Arf! Productions, Inc. Photography by: Mulato Films. Package design by: Al Gold. Executive Producer: Joachim "Jochen" Becker.